The Company's flagship property is the St-Simon-Les-Mines Gold project site of Canada's first gold rush.
It hosts some of the largest historical placer gold mines in Eastern North America that were active from the 1860s to the 1960s. It produced some of the largest gold nuggets in Canadian mining history (50oz to 71oz).
The property holds a historical* placer gold deposit. The Company currently is exploring for a hard rock gold deposit as the source of the gold placers.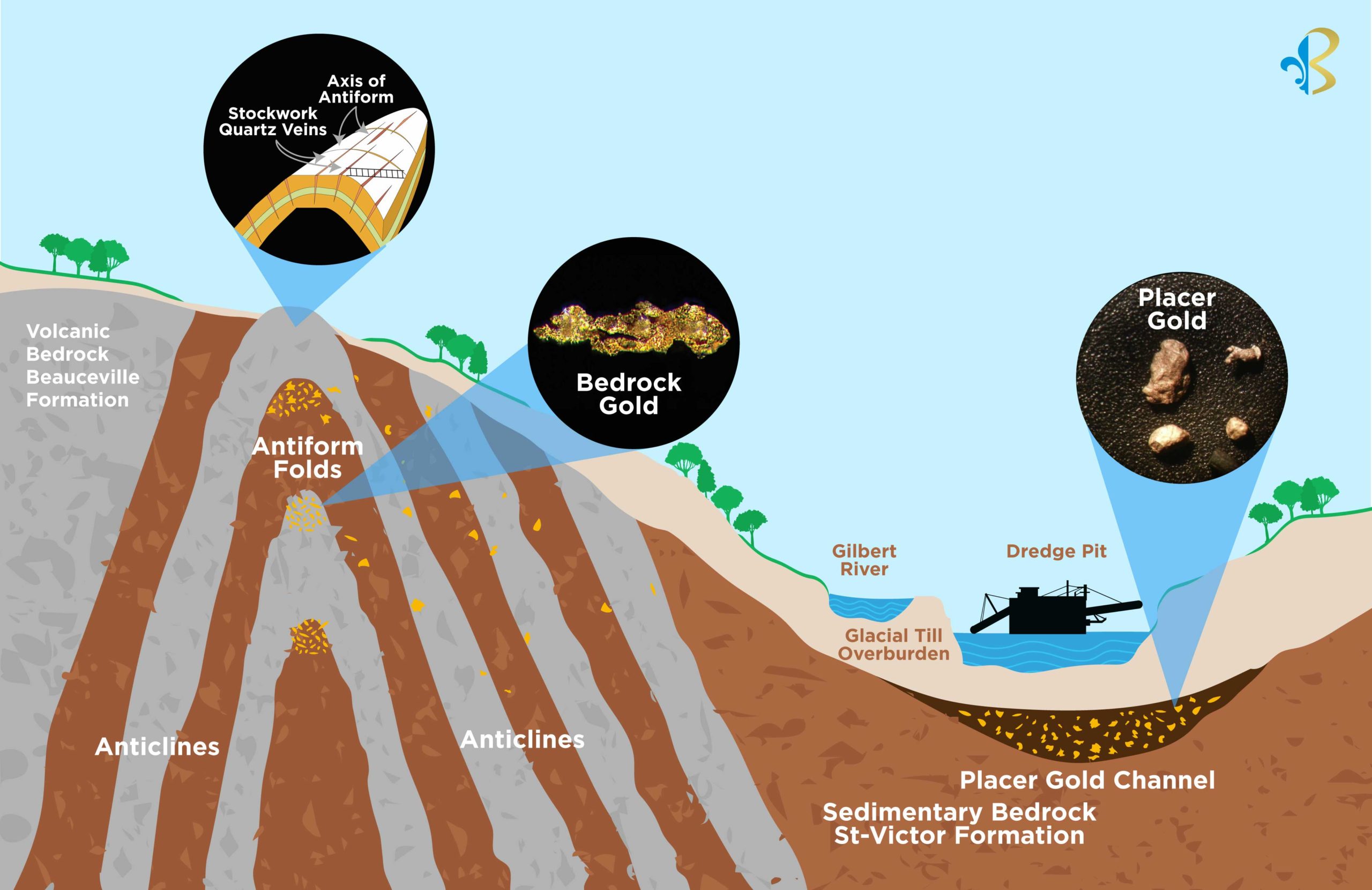 The project is located in Beauce, Quebec, Canada, known as one of the friendliest mining districts in the world.
Beauce is a historical and traditional region of Quebec located south of Quebec City. It corresponds approximately to the regional county municipalities of Beauce-Sartigan, Robert-Cliche, and La Nouvelle-Beauce, and its major communities are Saint-Georges, Sainte-Marie, Beauceville, Saint-Joseph-de-Beauce, and Saint-Victor.
The property is located near the town of Saint-Simon-Les-Mines in Beauce.
About 1 hour drive south of Quebec City and 15km north of the town of St-George de Beauce.
The property is accessible year round via paved and gravel roads.
Since inception, we have added significant value through the acquisition of 6 real estate lots totaling 176 acres in St-Simon-Les-Mines, and we have made 152+ claims covering the historical Beauce placer goldfield.
Exploration by Beauce Gold Filed discovered a major fault line as the probable source of the placer gold channel.
Eroded Fault Zone, is a likely a source of historical placer gold deposit
Geophysics identified a major Fault line along strike the Placer gold channel
Bedrock Gold at Fault Zone match Placer Gold from historical placer channel
High potential drill targets zones along 6 km
Potential Placer Gold Mining Operation
The property holds the largest historical placer gold deposit in eastern North America
Many KMs of unmined placer channel
Polygonally calculated Gold Exploration Target, for the entire historical placer channel ranging between 61,000 ounces (2,200,000 m3 @ 0.87g Au/m3) and 366,000 ounces* (2,200,000 m3 @ 5.22 g Au/m3).
Successfully permitted for trial mining (Uragold 2013)
Recent Work Images
(click to enlarge)
Historical Images
(click to enlarge)
All information such as resources estimates and grades herewith presented is historical in nature and while relevant, the information was obtained before the implementation of National Instrument 43-101 and as such does not meet National Instrument 43-101 reporting standards. The historical estimate should not be relied upon until the Company can confirm them.
Beauce Gold Fields is a gold exploration company focused on placer to hard rock exploration in the Beauce region of Southern Quebec.
Our leadership team is responsible for implementing our strategy, overseeing exploration and setting operating and performance targets.